Description:
kAlx Pointing and Masonry Mortar is a purely mineral product, composed of hydraulic lime and is excellently suited for repointing brick and stone in non to moderately salt-loaded substrates.
Suitable for use on internal and external applications, our pointing mortar is composed of natural hydraulic lime. It is highly vapour permeable and is available in a range of 28 colours and in super-fine, fine, medium and coarse grades.
kAlx lime-based Pointing and Masonry Mortar undergoes a relatively quick carbonation and hydraulic hardening process. Both hardening processes run parallel and so result in an acceptable strength after only a few days.
Benefits:
Salt, frost and moisture resistant
Moisture regulating
Available in fine, medium and coarse grades.
Supplied ready to use – just add water
Lime based
Suitable for repointing brick and stone walls
More Information:
Please note that on application, the wet mortar will appear darker than it will be after curing. Depending on weather conditions, the initial cure will take up to 72 hours, with full curing taking up to 28 days. An example of this can be seen in the image below.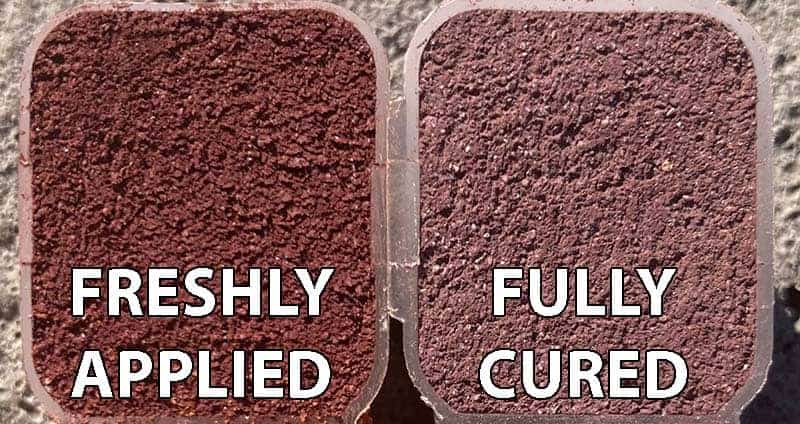 Colour Matching
For trade customers we highly recommend purchasing the Kalx Pointing Mortar Colour Sample Tray
Due to variations in devices and display screens, it is not possible for us to give brick colour matching recommendations from photographs.
For assistance in colour matching please complete the form below and send a small sample of the material that you are trying to match, and we will provide the closest match from our standard colour range.
Simply send a small piece, at least the size of a 1p coin, with your full contact details to:
Steadfast Specialist Products Ltd, The Yard, Orchard Cottage, Cary Fitzpaine, Somerset, BA22 8JB
Note – Please ensure that you include sufficient postage to cover the cost of delivery. Generally the cost of sending a large letter with the Post Office
Bespoke Colour Matching
If we are unable to match your sample from our standard colour range, we can create a custom colour specific to your needs. Please call to discuss timing, costs and minimum order quantities.
Kalx FAQ
Product Specifications
Technical Characteristics
Appearance

Powder

Application Temp oC

2 - 35

Compression strength (N/mm2)

3.5 - 6.0

Water mixing factor (L/25kg)

5.5 - 6

Volume mixed mortar (ml/kg)

650 - 700

Consumption (kg/m2, 10mm thickness)

13 - 15
Downloads