Jahn M120 - All-round Mortar
All purpose mortar designed for levelling rough surfaces and sealing small to medium sized irregularities.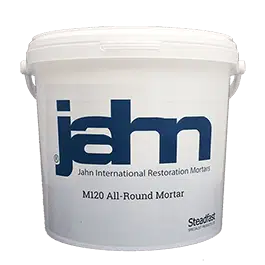 Description:
The range of applications for the Jahn M120 is what gives it its name but it is particularly suited for levelling rough and slightly damaged surfaces, sealing hairline cracks in stony substrates and for modelling work.
As with all Jahn mortars, M120 is a mineral-based, single-component mortar that is supplied ready to mix with water. It has a porous structure and is high frost, moisture and salt resistant.
Benefits:
Can be applied on all mineral, stony, absorbing and load bearing structures
Multi-purpose
Ready to use – no one site chemistry leading to inconsistent repair
Environmentally friendly – no toxic or synthetic components
Salt and moisture regulating
Non-shrinking
Easy to apply
Product Specifications
Jahn M120 - All-round Mortar
Specific Gravity (kg/dm3)

1.50

Bending/Tensile strength (N/mm2)

1.5 - 2.5

Compression strength (N/mm2)

6.0 - 8.0

Dynamic E-modulus (KN/mm2)

4.5 - 6.5

Water absorption (%)

25.6

Water Mixing Factor (ml/kg)

380 - 400

Volume mixed mortar (ml/kg)

800

Consumption (kg/dm3)

1.2

Linear expansion coefficient (%)

0.01

Hydraulic expansion coefficient (%)

0.09

Water vapour permeability (my)

18.87

Capillary water absorption (w value)

8.85