Customers DIY Brick Tinting Project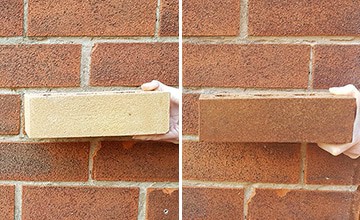 We received this fantastic series of DIY Brick Tinting photos today from a happy customer.
Phillip and his wife have a concrete post and timber panel fence at the front of their 1970's property and they want to replace it with a brick garden wall.
However, they want the wall to match their bungalow but have been unable to source the original bricks. Undeterred, Phillip managed to find a buff coloured brick that had roughly the same texture as the originals. Ensuring that the brick was porous so that it could be stained, he purchased 2,000 and set about finding the appropriate brick dye.
Having found our website through a Google search, Phillip purchased three non-permanent sample pots of our Total Wall Care Colour Matching Brick Tint.
To achieve a deep base colour, he applied two coats of Burnt Orange brick tint with a paint brush. Once that had dried, he then used a handheld spray gun, filled with the Coffee Brown tint, to achieve a speckled effect. Once that had dried, he used the same technique with Carbon Black tint.
As you'll see from the photos in the gallery below, the result is excellent, especially when you consider that this is a DIY brick tinting project and was not carried out by a trade professional. Click on each photo to enlarge it and to see a description.
Phillip has now purchased enough brick stain to permanently tint all 2,000 bricks and, as a thank you for supplying us with these excellent photographs, he received a personal discount code 😉
Total Wall Care Colour Matching Tint is available from our web shop in a range of colours and sizes, including the 75ml non-permanent sample pots, as used by Phillip.
Posted on:
Categories: Total Wall Care