Restoration Workshop in Norcia Italy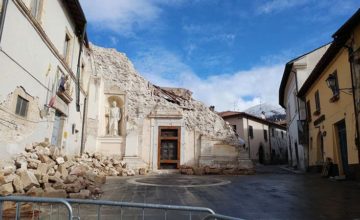 Where better to go to further our knowledge of building stabilisation, repair and restoration than Perugia, Italy?
This picturesque area of central Italy is the home of Kimia, a company that specialise in the research, development and manufacture of products specifically for the repair of historical buildings. Unfortunately, this part of Italy is also an earthquake region and has suffered a series of earthquakes including a 6.6 magnitude quake in October 2016 which claimed 300 lives and devastated the town of Norcia and its collection of Medieval and Gothic buildings and monuments.
Steadfast's founder and managing director Steve Newman, was invited to attend a workshop in Norcia, hosted by Kimia.
Kimia demonstrated their range of products and techniques, from traditional lime-based repair mortars, specially designed concrete repair solutions and innovative solutions using state-of-the-art products for repairing historic monuments with the need for protection against the severe movement caused by tremors and even future quakes.
See the gallery below for pictures of some of the damaged buildings and the restoration that is underway, along with some images from the workshop.
As a result of Steve's questions, knowledge and hands on approach, Kimia have invited Steadfast to be their exclusive partner in the UK.
Look out for the launch of Kimia products on our website soon!
Posted on:
Categories: Uncategorized