Welcome to Steadfast Specialist Products!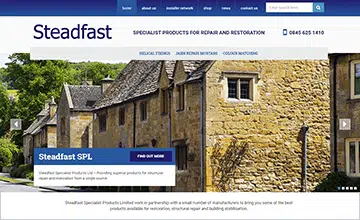 Welcome to Steadfast Specialist Products and our new website.
Our aim is to provide professionals in the building repairs, restoration and conservation industries with superior products and the information and training that they require, in order that they can specify the most efficient and long lasting repair.
We work closely with a small number of manufacturers and in addition to those that we currently feature we are also in communication with a number of additional companies to increase our product range.  We are also open to speaking with other manufacturers of quality structural repair and building restoration products.
Posted on:
Categories: Steadfast News