How to Repair Broken Brick – A step by step guide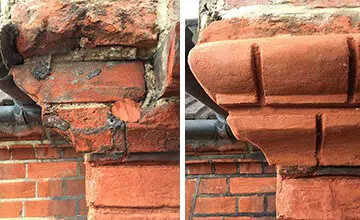 Repairing broken bricks is easy with Total Wall Care Brick Repair Mortar.
Whether damaged by impact, the elements, the removal of render, or by the use of the wrong type of mortar in the bed joint, broken bricks are unsightly and can cause further damage to the building or structure through water ingress or failure. Repairing the damage with a cement or concrete mix not only looks unsightly but can cause  more severe damage in the future due to cracking caused by the repair material being harder than the original.
Fortunately an easy to use solution to repair broken brick is now available in the form of Total Wall Care Brick Repair Mortar.
Total Wall Care Brick Repair Mortar is available in a wide range of colours and sizes and, once mixed with water, is ready to use.
Here's how:
Mortar Preparation
For colour consistency use a full bag of Total Wall Care Brick Repair Mortar.
Open tub and remove contents.
Open bagged mortar and pour into tub.
Mix 1 part water with 4-5 parts repair mortar. The mix should form into 1.5cm to 2.5cm balls and be slightly dry.
Repair Method
Ensure surface to be repaired is free from dust, dirt and loose particles.
Substrate should be pre-moistened and damp but not too wet. Weather factors such as direct sunlight should be taken into account.
Loose and crumbling material should be lightly brushed away and can be treated with Total Wall Care Stabiliser prior to repair.
Deep repairs should be built up in layers no more than 20mm deep and allowed to cure.
The first layer should be slightly wetter than the main mix. Roughly the consistency of smooth peanut butter.
9.1 To prepare this place a small amount of mixed mortar into a seperate, clean container and mix with a little additional water.
Using an appropriate trowel for the repair, the mortar should be firmly pressed into the existing brick ensuring that there are no gaps.
Allow each layer to cure ensuring that any top skin that forms is be scrapped back between layers.
Final layer should be 3mm to 10mm proud of the surrounding surface and allowed to cure. 3mm is sufficient for flat brick.
The repair can then be shaped and modelled with appropriate tools for up to two days after application.
Notes
Product should not be applied in temperatures below 5°C.
In hot temperatures or direct sunlight, the repair area should be damped down with a water filled hand sprayer every 3 to 4 hours or covered with damp hessian and allowed to cure.
The tools used for applying the Brick Repair Mortar can be cleaned with clean water.
Any splatters in undesired places should be removed with clean water.
Total Wall Care Brick Repair Mortar is available in our webshop in a wide range of colours and sizes. Click here for more information.
NB. Deep, narrow cracks in brickwork can be repaired by injecting with the specially developed Total Wall Care Colour Matched Crack Injection Mortar.
Posted on:
Categories: How To, Total Wall Care