Description:
Total Wall Care Brick Repair enables both professionals and competent DIY'ers to carry out the repair and restoration of brick.
Available in a range of common brick colours, this specialist, lime-based repair mortar is ready to use once mixed with water. The mortar is extremely workable enabling the recreation of contours and profiles as well as surface textures.
Made from high quality hydraulic lime, Total Wall Care Brick Repair mortar simply mixes with water and is easy to use and extremely workable and forgiving. It is a perfect solution for refacing crumbling bricks, and repairing chips and impact damage.
Brick Repair Colours
Available in 1kg, 5kg, 10kg and 15kg in the following colours:
Base (off-white)
Bath Stone
Hamstone Yellow
Old London Yellow
Old London Stock
Terracotta
Burnt Orange
Burnt Sienna
Traditional Brick Red
Rustic Brick Red
Old London Red
Classic Plum
Coffee Brown
Rich Brown
Mocha Brown

*NEW*

Cappuccino Brown

*NEW*

Latte Brown

*NEW*

Sienna Brown
Light Grey
Dark Grey
Carbon Black
1kg of repair mortar will supply approximately 700ml of mixed mortar which will cover 0.7 square metres at a thickness of 1mm.
If your wall is constructed from bricks of varying colours you should consider purchasing a variety of colours of repair mortar.
Colour Matching
Due to variations in devices and display screens, it is not possible for us to give accurate brick colour matching recommendations from online images or photographs.
For assistance in colour matching please complete the form below and send a small sample of the material that you are trying to match, and we will provide the closest match from our standard colour range.
Simply send a small piece of each colour brick that you wish to match (at least the size of a 1p coin) with your full contact details to:
Steadfast Specialist Products Ltd, The Yard, Orchard Cottage, Cary Fitzpaine, Somerset, BA22 8JB
Note – Please ensure that you include sufficient postage to cover the cost of delivery. Generally the cost of sending a large letter with the Post Office
Bespoke Colour Matching
If we are unable to match your sample from our standard colour range, we can create a custom colour specific to your needs. Please call to discuss timing, costs and minimum order quantities.
Notes
Deep repairs can be carried out by applying multiple layers of repair mortar allowing each to cure.
Where existing brickwork is aged or of inconsistent colour you might want to employ brick tinting techniques with Soot Wash, Lime Wash or an alternative colour. Our Brick Tint Multi-Packs are an ideal solution for this purpose.
Benefits:
Simply mixes with water
Easy to use
Extremely workable and forgiving
Can replicate a multitude of surface textures
Can also be used to repair natural stone
Vapour permeable allowing brick to breathe
Can be layered for deep repairs
1kg size supplied in a tub, 5kg and above supplied in bags.
More Information:
Please note that on application, the wet mortar will appear darker than it will be after curing. Depending on weather conditions, the initial cure will take up to 72 hours, with full curing taking up to 28 days. An example of this can be seen in the image below.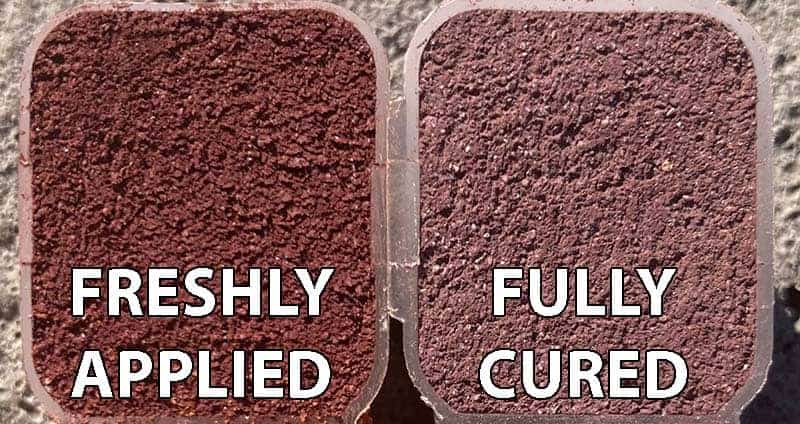 For Total Wall Care Colour Matched Pointing Mortar please click here.
Total Wall Care FAQ
Downloads