Lewisham House Collapse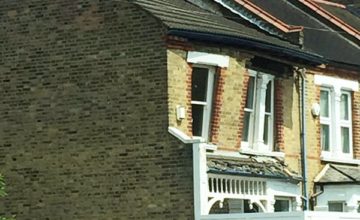 You may have seen the news recently about the collapse of a house in Lewisham. The house was being renovated at the time and fortunately nobody was inside.
At the time of writing there's a lot of speculation as to the actual cause of the collapse with the removal of all interior walls being the most common theory.
One thing is for sure, what happened is an extreme example of a lack of lateral restraint. As you can see from the picture, the brick facade has moved forward significantly where the first floor meets the roof line.  This can even happen with all interior walls in place if there is insufficient lateral restraint tieing the brick facade to the structural diaphragm.
As would appear to be the case at the property in Lewisham, the roofs of period buildings are often replaced with much heavier, concrete tiles than were used during construction.  This increases the stress on the load bearing walls and if additional load is placed on the exterior facade, and it isn't tied to the main diaphragm, this can lead to bowing and eventually collapse.
Additional lateral support can be provided with lateral restraint ties that self-tap into the flooring joists and are bonded into the external facade and with the installation of additional wall ties.
Another common cause of bowing walls, particularly in Victorian and Edwardian properties, is a lack of lateral restraint where the internal staircase runs parallel to the exterior wall. Because there are no floor joists at first floor level, the wall is only tied in at the ground level and at the roof line.  In such cases the use of masonry beaming can be used to "strap" the elevation to the perpendicular elevations that have adequate restraint.
It's too late for the property in Lewisham but the good news is that nobody was hurt.
Posted on:
Categories: Helical, Lateral Restraint, Structural Repair, Wall Ties