Colour Matched Pointing Mortar
Lime pointing mortar in a range of commonly used colours.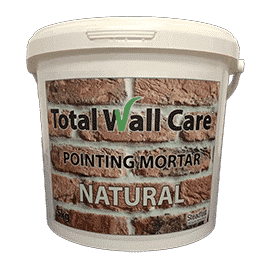 Description:
Total Wall Care Colour Matched Lime Pointing Mortar has been developed to enable both professionals and competent DIY'ers to carry out the repointing of brick and stone.
Available in a range of common mortar colours, this high quality, lime-based pointing mortar is ready to use once mixed with water. The mortar is extremely workable enabling both smooth and textured finishes with appropriate tooling techniques.
A high quality, ready to use, lime pointing mortar available in 1kg, 5kg, 10kg and 15kg tubs in the following pre-mixed colours:
Natural
Harvest Beige
Harvest Yellow
Barley Yellow
Sand Yellow
Light Ivory
Pebble Grey
Silk Grey
Smoke Grey
Charcoal
Light Khaki
Dark Khaki
1kg of dry mortar will supply approximately 600ml of mixed mortar. This will fill a 60omm x 10mm x 10mm joint.
More Information:
A custom colour matching service is available on request.