Brick Repair Mortar
A range of pre-coloured, natural repair mortars specially developed for repairing and restoring bricks.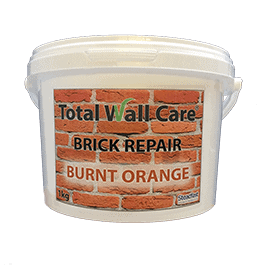 Description:
Total Wall Care Brick Repair has been developed to enable both professionals and competent DIY'ers to carry out the repair and restoration of brick.
Available in a range of common brick colours, this specialist, lime-based repair mortar is ready to use once mixed with water. The mortar is extremely workable enabling the recreation of contours and profiles as well as surface textures.
Total Wall Care Brick Repair mortar simply mixes with water and is easy to use. Full instructions are included and it is a perfect solution for refacing bricks and repairing chips and impact damage.
Available in 1kg, 5kg, 10kg and 15kg tubs in the following colours:
Base (off-white)
Bath Stone
Hamstone Yellow
Old London Yellow
Old London Stock
Burnt Orange
Burnt Sienna
Traditional Brick Red
Rustic Brick Red
Old London Red
Classic Plum
Coffee Brown
Rich Brown
Light Grey
Dark Grey
Carbon Black
1kg of repair mortar will cover approximately 1 square metre at a thickness of 10mm.
More Information:
A custom colour matching service is available on request.
For Total Wall Care Colour Matched Pointing Mortar please click here.
Downloads